Well today was...err...uneventful. I spent a large portion of the day sleeping. Without my usual bike ride and dose of international current event mayhem via Democracy Now(they take the weekends off and I hate it!)I was feeling rather unstimulated, but then I remembered that there is so much to be excited about right now when it comes to music.
The Warped Tour 2009 band list is being constructed as you read this and an incomplete version has been released on the official website and myspace. I am so happy to say that this year both Anti-Flag and Bad Religion are on board! I have no idea where I will actually be by the time summer 09 rolls around, but I think it's safe to say that I would travel to see Anti-Flag and Bad Religion on the same day.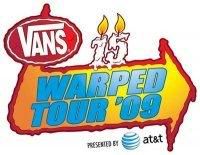 Speaking of Anti-Flag, another thing that is worthy of excitement right now is "Demand in D.C", a show that will be taking place in Washington D.C on inauguration day(for those of you that have been living in caves, that's 1/20/09). Playing with Anti-Flag will be United Nations, The A.K.As, and Ruiner(all lovely musical acts indeed!)Along with music, the work of artists and photographers will be featured and rumor has it that some really cool things will be auctioned off at the show to support cancer research. I've been crunching the numbers trying to find a way that I can swing this, but I'm not sure yet. If you can go, DO IT. Tickets are only $10! There's no excuse not to! Anti-Flag is currently working on a new album and you can check on their progress via their blog "There Is No War Without Warriors". I've been following it, so I'm updated every time one of them so much as sneezes.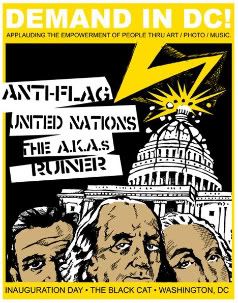 Also, Billy Talent is working on a new album right now, which has got me all kinds of excited. If you haven't heard their new song 'Turn Your Back' featuring Anti-Flag(have you heard of them?)you absolutely need to check it out. It's being sold as a single on itunes and all the proceeds are going to Red Cross. Who knows? Maybe they will be promoting said new album via Warped Tour 09? They also just released a live DVD called '666'. I haven't seen it yet but it looks promising.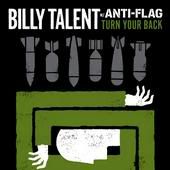 I just love bands that have something important to say.
Take care of each other and support good music!
xoxo